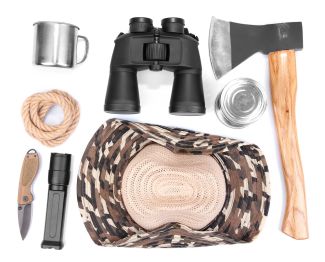 I admit it; I love survival reality shows. It started with "Survivorman," then "Naked Castaway," and "Dude, You're Screwed." Whether it's a man alone in the wild with only a few survival items or a commando-type guy kidnapped by his commando-type friends and dropped off someplace remote, if someone's trying to survive in the wild, I'm going to be interested.
In one survival show, two strangers are dropped off in an inhospitable locale to survive for 21 days. They have nothing on them (not even clothes), but they're each allowed to bring one survival item. Popular items are a firestarting tool, a knife, and a bowl. With these three tools, you can cover the basics: build a shelter, build a fire for warmth and to cook food and boil water, and hold the water while it boils. Take one of these items away, and you're missing one of the necessities of food, water, and shelter. Each couple has to make a choice of which necessity to leave to chance.
Fortunately, you don't have to leave anything to chance when you're documenting your business deal. But if you could protect yourself with only two provisions, what would they be? Of course, every contract has to describe the basic business terms such as price and quantity in order for the contract to be enforceable. But what two other terms would you choose?
When I'm representing buyers, my principal concern is making sure my clients get what they're paying for. So I'm usually concerned that the product or service is adequately described in the contract and that the seller provides a warranty that the product or service will conform to the description.
When I'm representing sellers, my principal concerns are making sure my clients get paid and that the business deal doesn't leave them exposed to undue levels of legal and business risk. So I'll want to make sure there's a good clause in the agreement describing how much the seller will be paid and what triggers the payment obligation. I'll also want a provision that limits my client's exposure to legal claims. I'm torn between limiting the warranty coverage and a limitation of liability provision, and I'd probably make that determination on a case-by-case basis. If forced to make a universal decision, I'd probably include a dollar cap on liability to the price of the product or service. Of course, in the wild, this is often a hotly-contested issue.
In the real world, you're not going to be limited to choosing just a couple of contract clauses. But negotiations do often require giving up one thing in order to get another. So it's a useful exercise to think about what the most important clauses are.
If you were forced to choose only two contract clauses, which would you choose?
Image credit: Shutterstock. Image may not be copied or downloaded.